Craving Mexican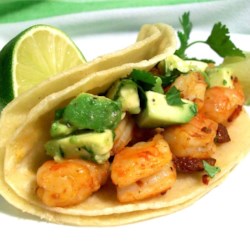 Last night I grabbed supplies and headed to Sam's.  Sure it took me stopping at 4 different stores but it was worth it.  I had a craving for Mexican. The appropriate ingredients were not easy to find.  Chipotle peppers in adobo sauce? Not readily available in Vancouver.  So says the $7 price tag- I have paid less than $2 for the exact same product in San Diego.
On the menu:
Sasha's Green Guacamole with Tortilla Chips
My guacamole only has green ingredients- no tomatoes in sight! Lemon instead of lime is the key, the flavours are just brighter.  Tip: keep the pit of the avocado and place one in the finished guacamole.  This keeps the guacamole from turning brown- that is if you don't inhale it all immediately.
Ingredients
3 large ripe avocados
Juice of 1 1/2 lemons
1 bunch of cilantro, finely chopped
2 green onions, sliced
Dash of garlic powder
Salt and pepper to taste
De-seed and cube avocados.  Place avocado cubes into a large bowl with lemon juice, cilantro, green onions, garlic powder, salt and pepper. Mash lightly with a fork to achieve a chunky consistency.  Taste with a tortilla chip and adjust seasoning if necessary.  I sometimes add some de-seeded jalapeno if I want some heat.
Sam's room mate and his girlfriend were drawn to the kitchen while I was cooking.  Luckily, I had enough to feed everyone.  Everyone enjoyed the Shrimp Tacos (which I took some liberties with- using fresh shrimp, adding zucchini, etc) but be forewarned they are VERY spicy.  We were all sweating within minutes. A good squeeze of lime and dollop of guacamole helped to cool down that heat.  You can of course adjust the heat by using less chipotle.  My Mexican craving was well satisfied.
I also stopped by a tiny wine shop in Robson Public Market called Divino Wine.  With some research I found that Divino is actually a winery (Divino Estate Winery) located in the Cowichan Valley right here in BC. I chatted with a lovely man who helped me pick a delicious dry red called Cowichan Bay Red- who says red wine doesn't go with shrimp?  And yes, I did drink over half the bottle to myself.  I said it was good, didn't I?
Taco photo courtesy of SunnyByrd, an allrecipes.com member
by Sasha
sistersfromadifferentmister posted this